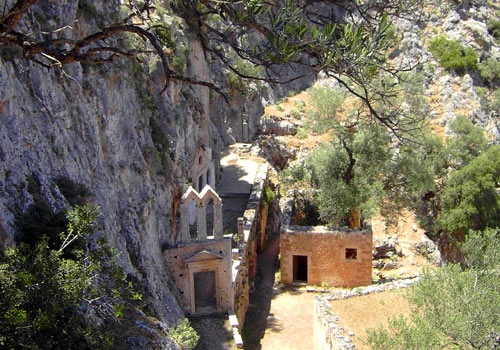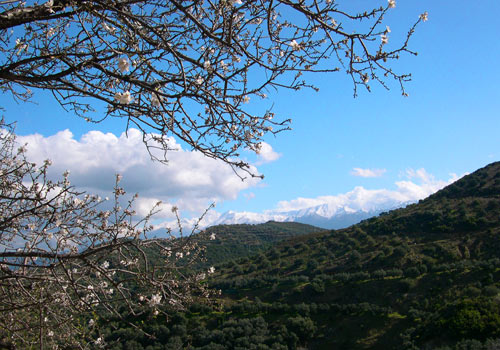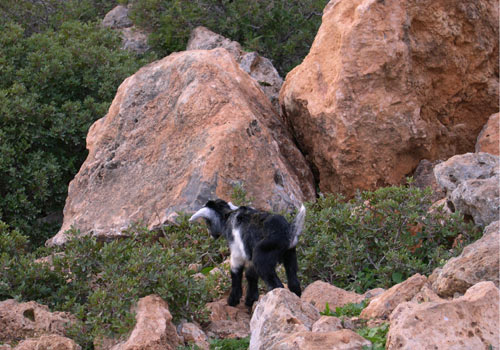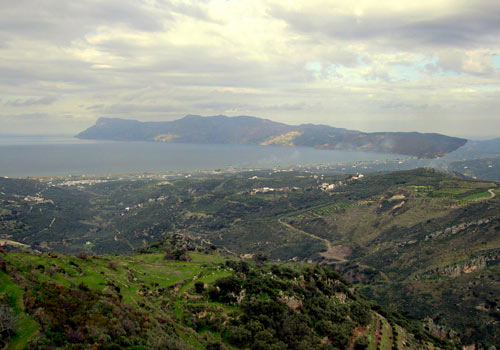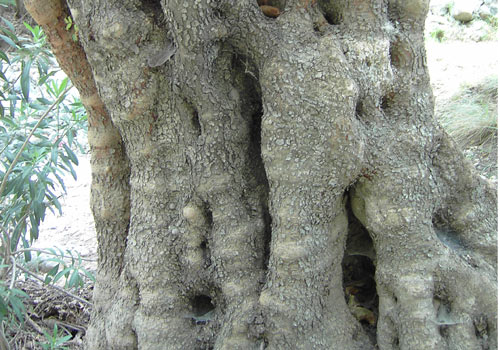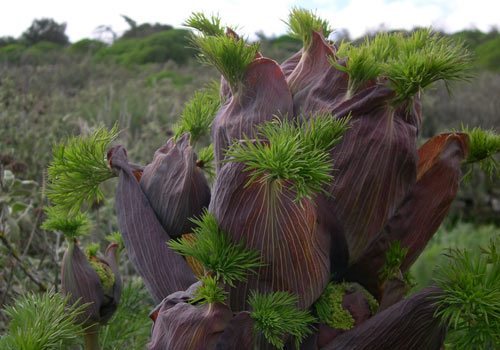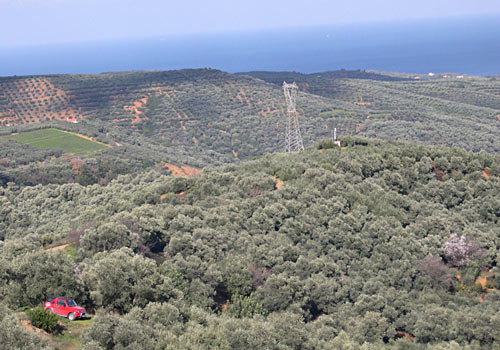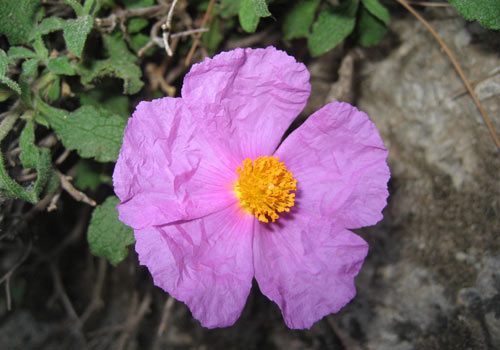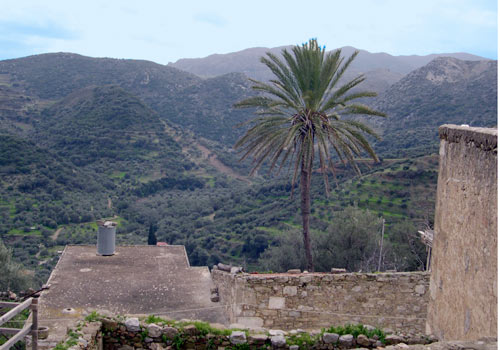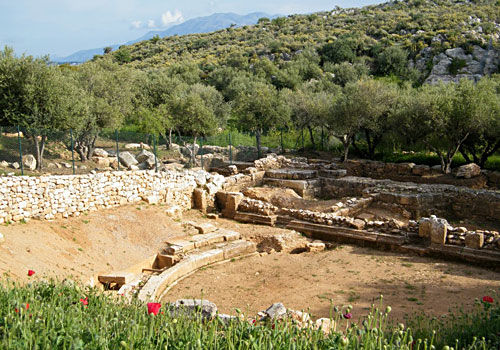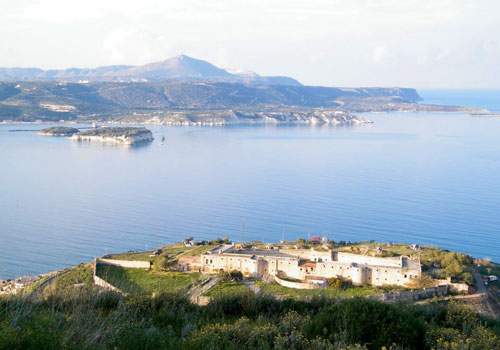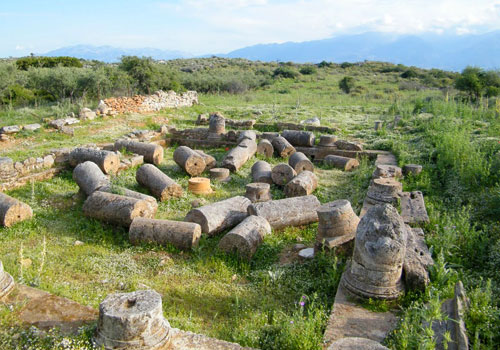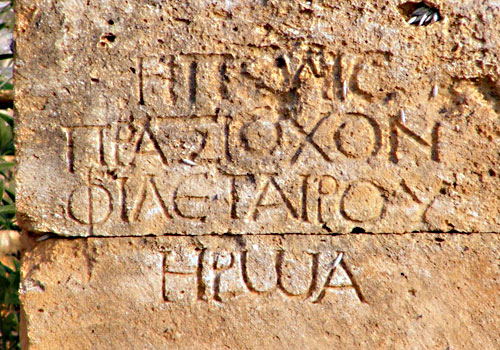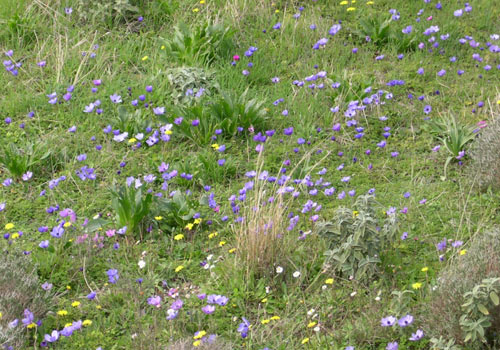 SHORT, WONDERFUL WALKS NEAR CHANIA:
APTERA:
An easy circular walk of about 3 hours in an idyllic countryside dotted with wild flowers, around the ruins of ancient Aptera, located on a hill above the bay of Souda. We will be rewarded by magnificent wiews over the White Mountains on the south side and over the Souda bay on the north side. Founded in the 7th century BC, one of the largest City–States of Crete, Aptera was inhabited until the 7th century AD, until it got destroyed by an eathquake. Only a small part of the site has been excavated, and many ruins, covering a very large area, remain to be seen: massive defensive walls, an impressive roman cistern, an Hellenistic temple, a 12th century monastery and, at the north western end, a Turkish fortress strategically overlooking the Souda bay.
AGIA TRIADA - GOUVERNETO - STAVROS:
A 4 to 5 hours walk on the Akrotiri peninsula offering a wide variety of landscapes and interests. Starting at the monastery of Agia Triada, founded in the 17th century and an important religious school until 40 years ago, we follow a small road for about 4 km, ending at another 16th century monastery: Gouverneto, with its beautiful Venitian church. From there a path leads to the ruins of the 11th century monastery of Katholiko. On the way, we will pass the Bear Cave, a vast chamber with a large stalagmite in the shape of a bear. The monastery building spans a small gorge with a great stone bridge. The area has a magical feel to it; we feel very far away from civilisation… even if we are only a few kilometers away from Chania. Following a shaded little gorge we emerge in a pastoral landscape and follow a small valley leading to the village of Stavros with its lovely sandy cove where some scenes of "Zorba the Greek" were filmed. Possibility of a swim and lunch in one of the tavernas on the beach.
VARIPETRO - KASTELOS - TEMPLA:
A 3 hours round walk starting in the village of Varipetro, a few kilometers west of Chania, and leading through olive groves to the nun´s monastery of Agia Kiriaki, recently renovated and housing a community of about a dozen nuns. A paved path leads to the cave hermitage of Agios Antonio ,hidden away in dense vegetation. We then wind up to the top of a hill where one of the most imposing fortress on Crete, Kastelos, offers panoramic wiews on all the north west coast. We then go down another path which takes us around the hill and back to Varipetro.
LAGOS GORGE:
A 3 to 4 hours circular walk starting at the village of Manoliopoulo, deeply hidden into the Chania fertile hinterland. A rough dirt track takes us first through a very green and lush landscape to the hamlet of Skonizo where we then follow a river bed with many plane trees into the Lagos gorge back to Manoliopoulo.
Aptera, Varipetro and Lagos Gorge can also happen as sunset tours in high summer … With a meal at the end …
© 2011 Anne Deckel