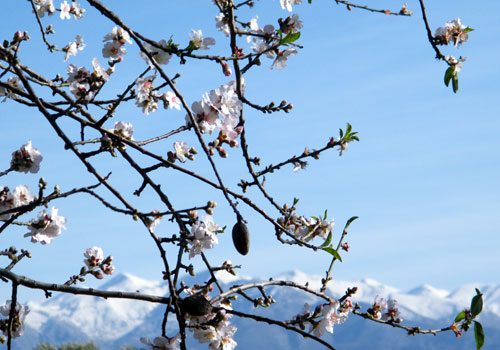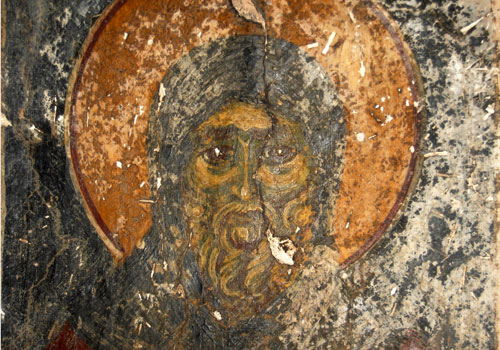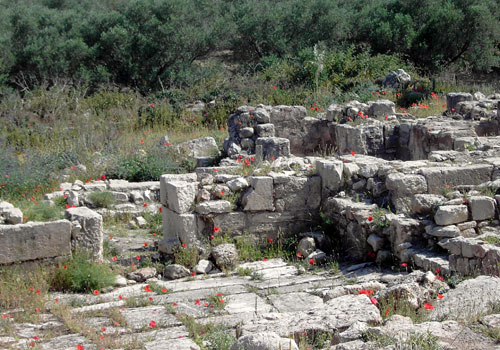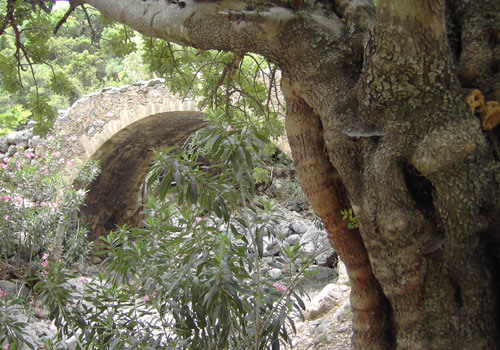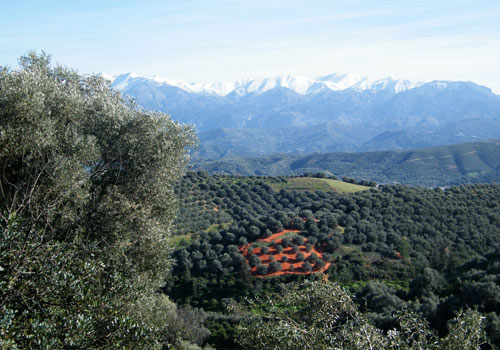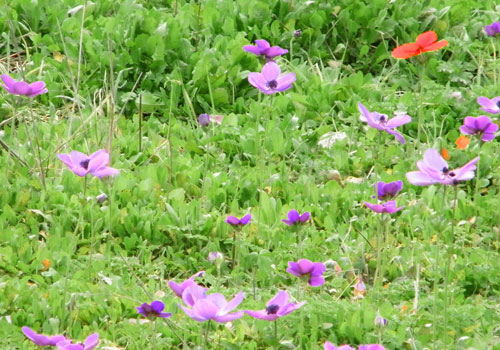 WINTER WALKS IN CRETE:
Winter reveals Crete under its most beautiful colours. The season of growth and greenery when olives are being harvested, orange trees are full of fruit, almond trees blossom in late January. The mountains are completely covered in snow and the rivers full of water.
Winter is also the best time to walk and discover the island and its inhabitants when tourism plays no role in the daily life. This 10 days walking tour offers easy walks (3-5 hours) most of them taking place at low altitude. The emphasis is also on culture with many visits of chapels and antique sites. Winter in Crete is mild, with little rain fall, but due to the possibility of weather change, this program allows enough flexibility to be able to fully enjoy each day. Most of our meals will be taken indoors and the accommodations will be in hotels or pensions offering heating facilities. The short walking times and cool weather also make that program ideal for those who think Crete is too hot for walking in summer ...
Day 1: Visit of Chania
Night in Chania.
Day 2: Apokorona
One of the greenest regions of Crete, it is situated East of Chania. Between the sea and the White Mountains we will discover isolated villages, antique sites in the middle of olive orchards or pastures. We shall also visit a small museum of local handicraft and folklore. Depending on the weather, our lunch will be either a picnic or a meal in a traditional Taverna. Towards the end of he day, we go with a private mini- bus to the village of Kournas overlooking a lake surrounded by steep hills. We have dinner in a local taverna, famous for its excellent food.
Night in Chania.
Day 3: Chania - Lakki - Omalos
Early morning departure from Chania and drive to the mountain village of Lakki. After a substantial breakfast in a local kafeneon, we take the "strata ton Mousouron", the ancient path of the revolutionnaries where many rebellions against the Turks were conducted to the plateau of Omalos. Visit of a cheese factory.
Night in a comfortable family inn.
Day 4: Gingilos or incursion in the Samaria gorge
Depending of the weather and the snow conditions we will either walk up to Gingilos (2080m) and be rewarded with spectacular views on the Lefka Ori,or walk down the beginning of the Samaria gorge, closed to the public during the winter months.
Night in Omalos.
Day 5: Omalos - Epanohori
We cross the summer pastures and them take an old mule path going to the village of Agia Irini. Incursion into the Agia Irini gorge and visit of two byzantine chapels with 13th century frescoes.
Day 6: Epanohori - Kandanos - Paleohora
From the village of Skafi, we follow an old path to Kandanos. We cross ancient olive groves with thousand years old trees and discover a wealth of Byzantine chapels, some of them with very well preserved frescoes. We then drive down to Paleohora, a small beach resort on the south coast, stopping on the way to visit the Dorian archeological site of Kadros.
Night in Paleohora
Day 7: Paleohora - Anidri - Azogires
After following a coastal path to a superb beach, we walk up a small gorge to the village of Anidri. We then carry on to the picturesque village of Azogires where we have lunch. In the afternoon we explore a cave which became famous in the 12th century for the 99 monks who took refuge in it. Return to Paleohora by car.
Day 8: Paleohora - Moustakos
Elos Milia Drive to Moustakos where we start the walk through a forest of chestnut trees to the springs of Elos and the valley of Milia.
Night in this lovingly restored village.
Day 9: Milia - Sirikari - Polirinia - Chania
From the village of Sirikari we follow a very green gorge to the ancient Roman Site of Polirinia. Return to Chania by taxi or minibus, stopping on the way to visit the famous monastery of Gonia near Kolymbari.
Night in Chania.
Day 10: Departure.
© 2011 Anne Deckel